General Information
Identity. nieuwsmarkt.nl is a company website of LUIT Consultancy, established in Haarlem (The Netherlands) under Chamber of Commerce number 34201192.
Permission to use data. 2 of the 6 principles mentioned AVG foundation principles, no explicit and/or additional written permission is required.

Consent of the person concerned (when filling in a contact form to request information, consent is given for the processing of the data)
The data processing is exclusively necessary for the possible execution of a contract.

Purposes and legal grounds for processing. nieuwsmarkt.nl processes (customer) data for the purpose of requesting information. You will be asked for your company name, first and last name and e-mail address. Telephone number optional.
Not providing personal data does mean that an information request can be not made via the contact form.
Duration of storage. The data obtained via the contact form will be deleted as soon as the requested data from the form has been processed and/or executed. All data is transmitted in encrypted form via a certified SSL connection.
Right of access, rectification or deletion of personal data. Completed forms will be sent to the sender as an e-mail. In this way the sender gets an insight into what has been sent. After processing, the data will be deleted. It is not possible for the 'sender' to change or delete an information request in the time the data is being processed.
Right to complain to the Authority of Personal Data. If, despite the above privacy declaration, you have reasons for lodging a complaint, please contact us before contacting the Authority for Personal Data.
Data leaks and/or calamities. In the event of data leaks and/or calamities, all active forms 'senders' are immediately informed of the leak and the measures to be taken by nieuwsmarkt.nl to prevent the misuse of personal data.
Data Protection Officer. Peter Luit
Technical provisions
In the context of the data protection impact assessment (DPIA):
SSL certificate COMODO, domain validation, single domain (to be checked via SSLLabs). In this way, nieuwsmarkt.nl guarantees the encrypted transport of personal data via the contact form.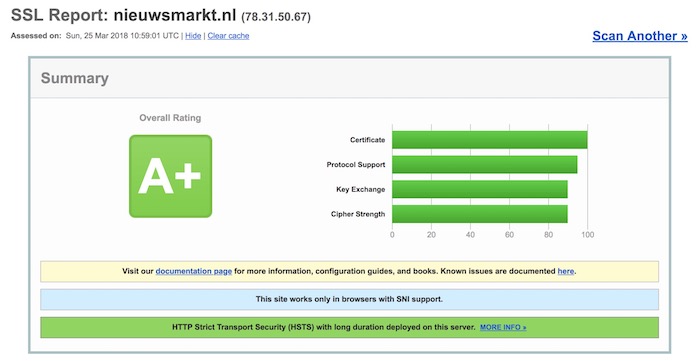 Security Report (to be checked via security headers). With this,nieuwsmarkt.nl guarantees that it has taken all reasonable measures to prevent possible external attacks on personal data that are processed via the website.

The above statement is based on the processing of the basic principles within the AVG legislation.